"What will happen to us?" "Will they fingerprint us?" was the constant refrain as we watched a human wave of asylum seekers and migrants from Syria, Iraq, and Afghanistan crossing the Serbia-Hungary border. People never stopped arriving, from early morning to late night, on a dangerous and desperate journey of hope to leave behind the war-torn countries they fled, and towards the Western European countries that lay ahead.
Many had stories of tremendous loss and suffering they were fleeing from. Hassan Mohammed, a thirty-five year old Syrian, broke down in tears, recounting how just two months before, a Syrian airstrike destroyed his home in ISIS-controlled Raqqa, killing his wife Nadia, 30, and his daughter Sarah, 8. Now, he was determined to bring his surviving daughter Tasneem, 5, out of the horrors of war and to safety and a better future in Europe.
Where are they from?
The vast majority of the people seeking to reach Western Europe via the 'Balkan trail' come from three war-ravaged countries: Syria, Iraq, and Afghanistan.
In Syria, increasing numbers are fleeing deadly air attacks, including the barrel bombs of the Syrian government, sieges, lawlessness in areas controlled by armed groups as well as the terror of the Islamic State. In government-controlled areas of Syria, young men are also fleeing in increasing numbers to avoid an aggressive army conscription drive that started in August, after the Assad government offered a general amnesty to those who avoided mandatory army service. For many, fleeing Syria is an option of last resort, an acknowledgement that after living with the horrors of war for nearly 5 years and 250,000 dead, their hope has finally run out. 
In many parts of Iraq, after 12 years of civil war and instability that followed the 2003 US invasion that toppled Saddam Hussein, the security situation is just as dire as in Syria. The Islamic State controls the northern city of Mosul, and continues to threaten other cities including Kirkuk. Many Sunni Iraqis fear government-backed Shi'a militias just as much as the Islamic State, and are fleeing targeted violence against their communities by such militias.
Afghanistan has been at war for nearly four decades, but the war there too is getting worse. The first six months of 2015 saw the highest number of casualties among women and children since the UN started keeping track in 2009. The Taliban has made new inroads into previously stable areas, and government militias are just as feared for their brutal conduct in many parts of Afghanistan.
Most recently, extremists claiming allegiance to the Islamic State have begun their own campaign of terror in Afghanistan, striking new fear into many Afghans. Hussein, a Hazara farmer from Nimruz province, had carried his elderly 82-year-old mother Fatima on his back all the way through Iran, Turkey, Greece, Macedonia, Serbia, and Croatia when I encountered him. When I asked why he had made the extraordinary journey, he explained that the extremists of the Islamic State were behind his flight: "Those new groups, they only want to cut off our heads because we are Shi'a. That's all they care about, cutting off heads." To emphasize the point, the elderly Fatima nodded her head in agreement, and drew a finger across her throat in quiet resignation.
Even for those who are not coming directly from the conflict zones, but from the neighboring Turkey, Lebanon, and Jordan, life has become increasingly difficult and economically unsustainable. Refugees in these countries are not legally allowed to work, and are exploited if they work illegally. With Turkey's ongoing military operation against the Kurdish PKK, Turkey has become a more hostile place for many Kurdish refugees from Syria. International assistance to the millions of refugees in Turkey, Lebanon, and Jordan is quickly drying up, making it increasingly difficult for them to stay put in the region.  At the same time, Jordan has closed most crossing points to asylum seekers from Syria, Lebanon has imposed a series of restrictions and de-registrations of refugees, and Turkey talks openly about creating a 'safe zone' in Syria that would be the basis for returning Syrian refugees; refugees' confidence that they will continue to be protected in the neighboring states is shaken.
Ali al-Dahner, 46, became paralyzed after being shot in the back in Syria's civil war. His family moved to Jordan, but life there became increasingly difficult. "We rented a house there, with a subsidy we received," Ali recounted while waiting in line at Budapest's Keleti train station to buy a ticket to Austria and Germany a few weeks ago, "But our kids were not allowed to work, so it became impossible to stay there. We only had a bit of humanitarian assistance, and then suddenly, two months ago, we stopped getting any coupons."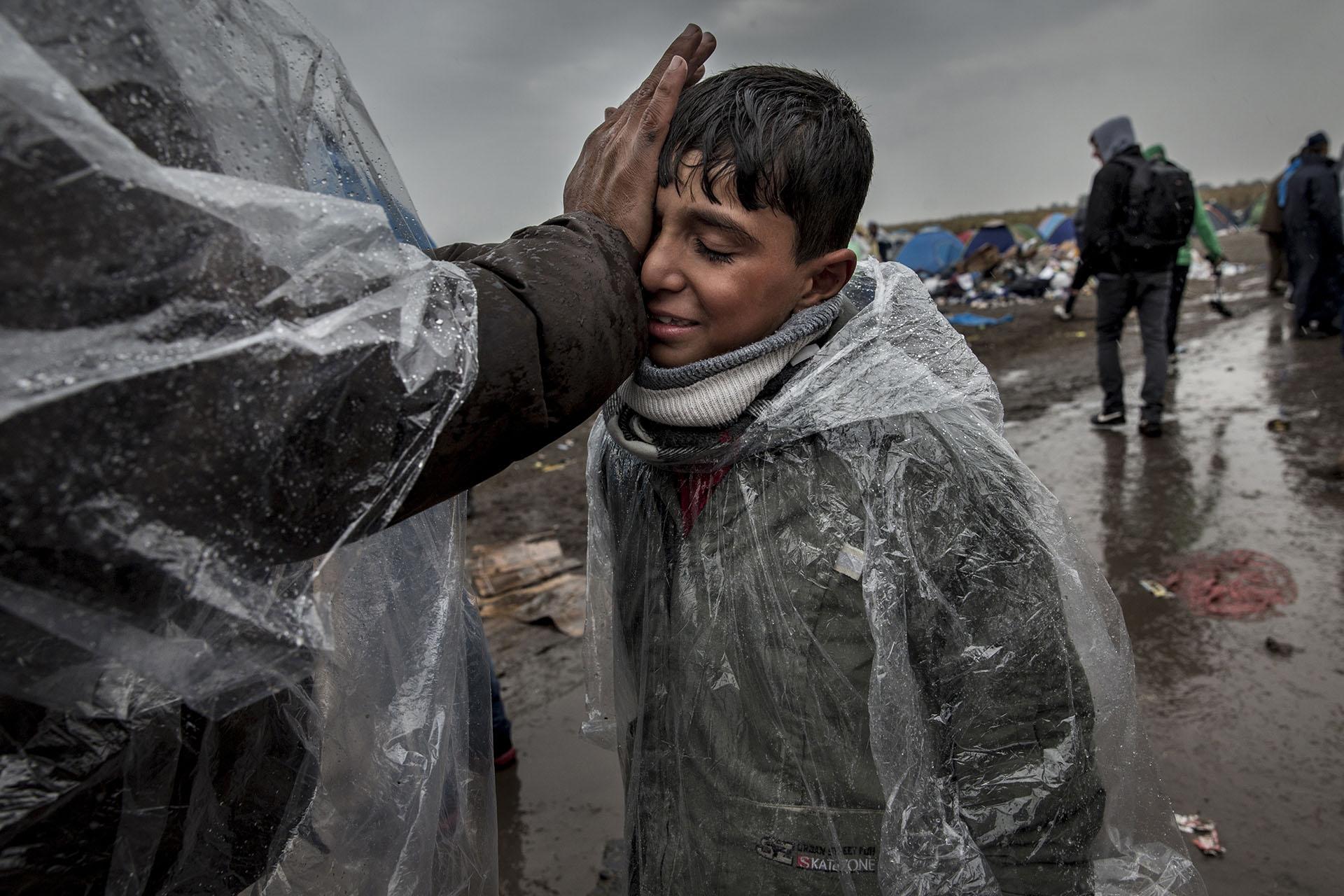 The Journey
For almost all of these taking the Balkan trail, the journey starts in Turkey. Reaching Turkey presents special challenges for those coming from Afghanistan, as they first have to cross the Iranian desert and the Iran-Turkey border, where Iranian border guards have regularly opened fire on them. Hussein, the Afghan farmer who carried his elderly mother on his back, told me that when he crossed the Iran-Turkey border at night in a van stuffed with 27 people, the Iranian border guards sprayed the van with automatic fire, wounding 8 people inside the van with bullets.
Amir Faim, a 23-year-old farmer from Afghanistan's Parwan province, and his wife, Navida, 18 — their three-month-old baby son, Parwan, in his father's arms — stood in the long line at the Röszke collection point on the Hungarian side of its border with Serbia, hoping to board a bus to take them to the dismal detention camps. Like most I spoke to, they hoped to go on to Austria and Germany.
Faim's family had already waited all morning, then tried to walk to Budapest, 110 miles away, after watching in frustration while Syrian asylum seekers were allowed to board buses. They were told to wait in the hot sun. After they walked 6 miles, the Hungarian border police and Dutch officers assigned to Frontex, the EU's border agency, stopped the group and ordered them to return to the collection point and wait again for the buses.
Faim told me that his family had sold everything they owned — their land, car, home, and jewelry — to collect the $16,000 smugglers demanded to take them out of Afghanistan. They had lived with instability for years, but the approaching threat of Afghan insurgents who have declared allegiance to the Islamic State finally made them decide to seek safety and security abroad.
Iranian border guards fired on them as they attempted to cross, forcing everyone to run away in panic. In the chaos, they lost their son, just two-months-old at the time, and it took them three hours of frantic searching to find him again, picked up by someone in their scattered group.
For many Afghans, the journey is even tougher. They flee Afghanistan with just bus fare to the Afghan-Iran border, and walk most of the way to Europe, unable to pay for smugglers or bus rides. Ismail, a 15- year-old boy from Logar province, told me he and his parents had walked for four weeks to cross Iran, and then had to cross the 15-foot-tall razor wire fence on the Bulgaria-Turkey border using ladders and blankets because they could not afford to pay the boat smugglers for the dangerous but short trip from Izmir to the Greek islands.
For those who can afford to pay the smugglers, the journey in Turkey begins with a visit to an "insurer" in Istanbul or the coastal city of Izmir to book the journey. Forget about smoky backroom deals with shady smugglers: the boat business is so big in Turkey that the insurers even issue receipts with scan-able QR codes, payable to the smugglers upon arrival in Greece. The journey costs on average $1,500 per adult, with kids half-price, life jackets not included. On some of the busiest days, the boat business between Turkey and Greece is a million-dollar enterprise, involving the launching of hundreds of motorized rubber dinghies dangerously overloaded with the desperate.
Normally, under good conditions, the journey from the Turkish shore to the Greek islands of Lesbos and Kos can take as little as 20 minutes to 2 hours, but everything can go wrong on the risky journey. Overloaded boats can flip over or deflate on the journey, resulting in tragic drownings such as that of Aylan Kurdi and his brother and mother that shocked the world's conscience. We have heard testimonies about mysterious balaclava-clad vigilantes who attack the occupants and push the boats back into Turkish waters.
Once in Greece, the long walk to Western Europe begins for the refugees. Until recently Greece, a country with a widely acknowledged dysfunctional asylum system, rigorously enforced heavy-handed immigration measures, including the systematic detention of migrants and asylum seekers, often in appalling and inhuman conditions, for prolonged periods. Policies shifted in early 2015, and now, unable to cope with the large influx of people, authorities have relaxed measures under the Dublin regulations, which require asylum seekers to be registered in the first EU country they entered, and to remain there while their asylum application was decided upon. Newly arrived asylum seekers are allowed to move freely within Greek territory, and many head north to the Macedonian border. Macedonia, Serbia, and Croatia have taken a similar approach, simply allowing the migrants and asylum seekers to move as quickly as possible through their territories towards their ultimate goal of reaching Western Europe.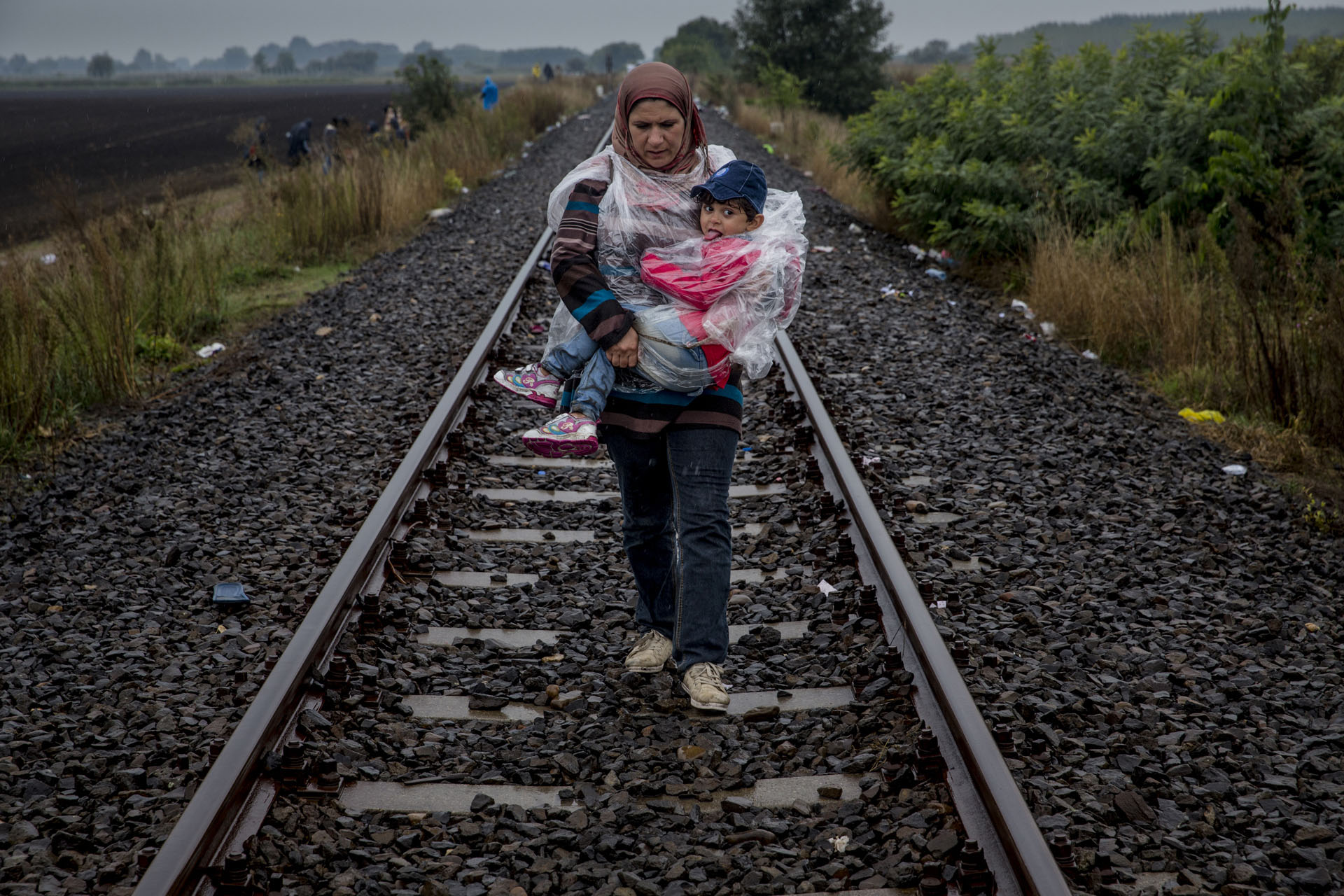 Overwhelmed Corridor
But with 4,000 to 6,000 new arrivals in Greece every day, most of whom are quickly making their way northward towards Western Europe, even the most accommodating of countries find themselves overwhelmed and stretched to the limits by the never-ending stream of migrants and asylum seekers passing through. Even if just passing through, the sheer number of people requiring shelter, sanitation, food and water, and medical assistance is often overwhelming. Keeping the large crowds under control, and organizing their transport, can be a daunting task for even the most organized of countries.
Such was the situation in Tovarnik, a one-street border village on the Croatian border with Serbia, after Hungary closed its border with Serbia with a 12-feet high razor wire, and the human wave of migrants was suddenly diverted towards Croatia. In a single day, nearly 10,000 desperate people arrived in tiny Tovarnik, stunning the local population and swamping the Croatian authorities.For several nights, thousands slept rough on the pavements around the train station of Tovarnik, relying on a single water tap and a row of porta-toilets for sanitation. Two days into the crisis at Tovarnik, the only visible humanitarian assistance for those temporarily trapped there were two German volunteers who had driven down with a carload of food and clothes they were trying to ration out to the restless crowds.In the meanwhile, in temperatures approaching 100F, dozens of Croatian police in full riot gear were trying to keep control of the crowds, desperately trying to get on to buses and trains to continue their journey onwards. Violent shuffles broke out regularly, as the crowds fought for a place on the buses and trains, with the weakest and most vulnerable often losing out. In some of the uglier moments, Syrians fought with Afghans over who should be allowed to board first, with Afghans complaining that the Syrians got favorable treatment. While the police tried their best to control the crowds with a restraint of force, the exhaustion was clear on their faces—and they were only three days into a crisis that has no end in sight.Similar scenes of chaos and overwhelmed authorities have occurred from the Greek islands of Lesbos and Kos to the reception centers in Germany, the preferred final destination for so many of the asylum seekers. Germany has admitted that it is straining to accommodate the constant arrivals, even as Chancellor Merkel has estimated there will be 800,000 new asylum seekers this year alone, and has said Germany is up to the challenge of accommodating them.Just 24 hours after pledging to keep its borders open to asylum seekers wishing to transit through Croatia, Croatia reversed course and closed 7 of its 8 border posts with Serbia, saying it was unable to cope with the influx of thousands. The border closures had limited effect: 3,000 people crossed into Croatia.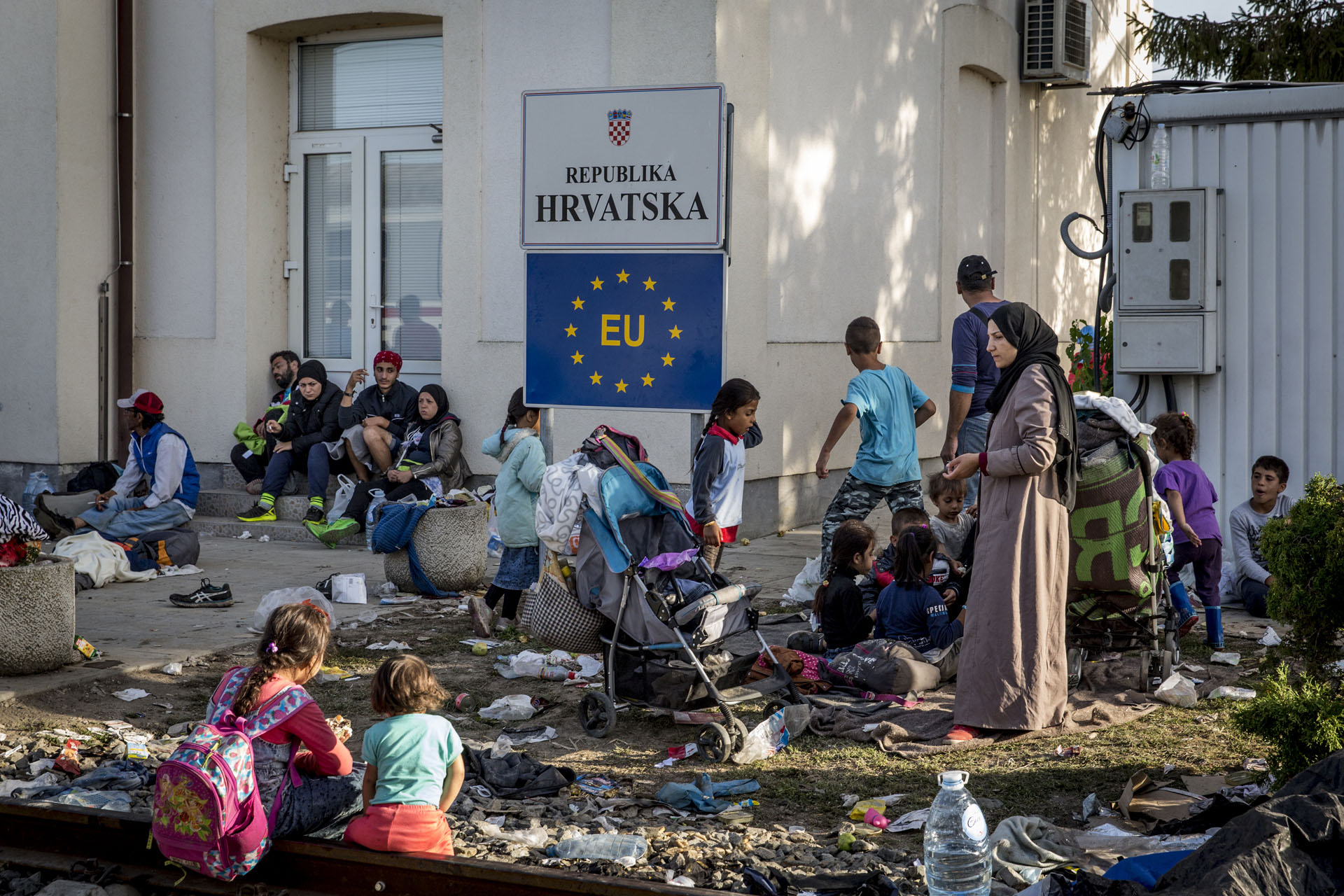 The response in Hungary to arriving asylum seekers has been appalling. Europe's most right-wing government, priding itself on its anti-immigrant stance which it advertises on the nation's billboards, has tried to make the experience of the asylum seekers traveling through Hungary as miserable as possible, it seems.
Hungary's Prime Minister Viktor Orban has claimed he is defending Europe's "Christian civilization" against what he describes as an invasion by "Muslim hordes," feeding both xenophobic feelings in the country and reviving ancient memories of battles against the Ottoman Empire. Orban has responded by building a 12-feet high razor wire fence along the border with Serbia, criminalizing the "illegal entry" into Hungary with jail sentences of up to five years, and sending arriving migrants and asylum seekers to miserable detention camps to be registered.Although the Hungarian authorities have barred journalists and civil society groups from visiting the detention camps, Human Rights Watch was able to obtain footage from the camps, and interviewed many former and current detainees of the camp. The detention conditions are shocking: detained asylum seekers are kept in yards, enclosed by fences, often severely overcrowded, and in many camps do not even have mattresses or blankets to sleep on. They are given no information about what will happen to them, and are not told if the food they are given is fit for Muslims to eat. One woman told us that her husband had a heart attack four days prior, had been taken away in an ambulance after receiving CPR, and that she had no information about him, and didn't even know if he was dead or alive.While Orban claims to be simply adhering to EU procedures for asylum seekers, the dismal detention conditions in the country fall far short of international standards, including EU standards.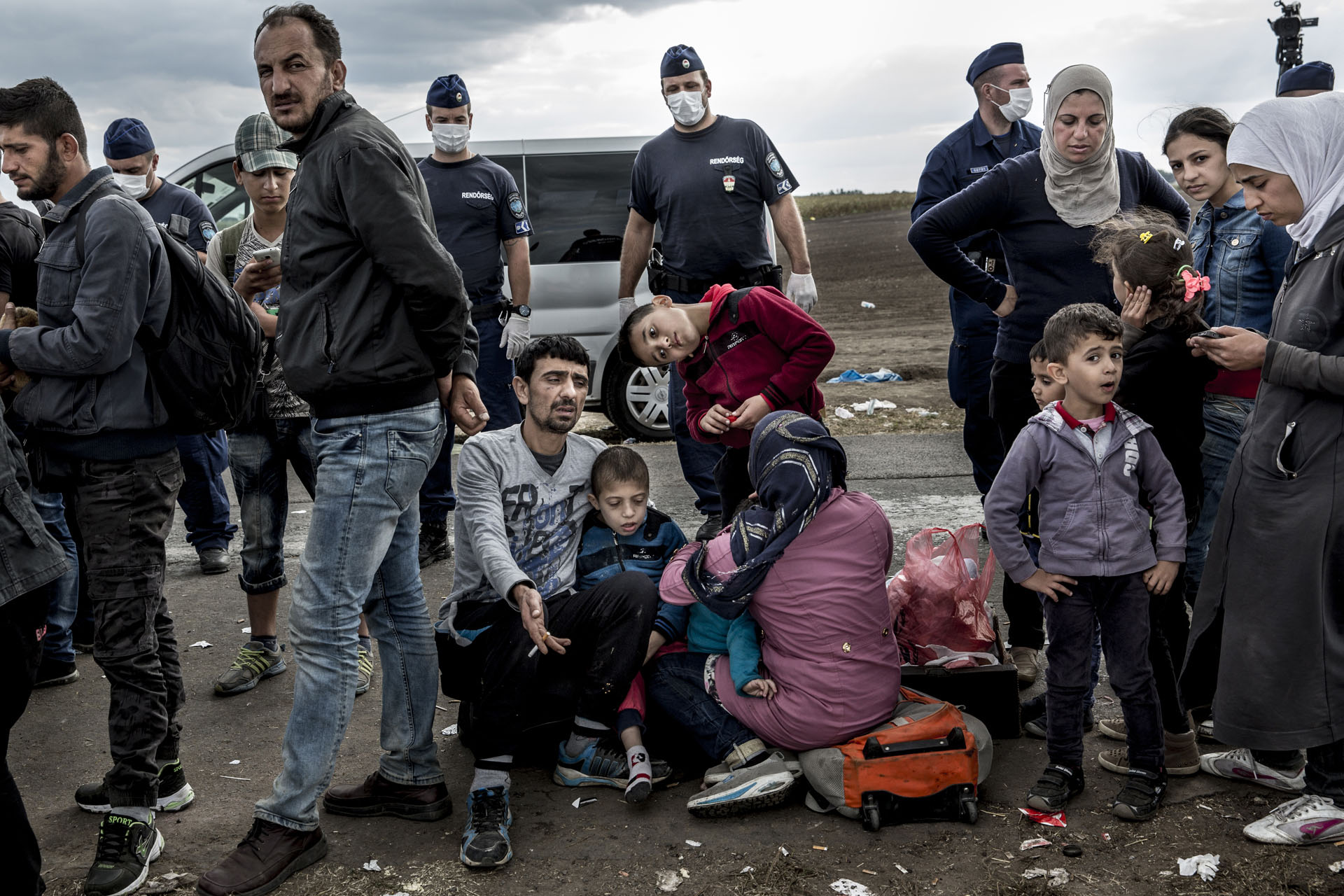 Europe is facing the biggest refugee crisis since World War II, and more fences and obstacles will not stop thousands of asylum seekers from arriving at Europe's borders every day, for the foreseeable future. I met an Afghan mother of three at the Serbian-Hungarian border, just as the 12-foot high razor wire fence constructed by Hungary was nearing completion. When asked what she thought about the fence, she shrugged her shoulders and told me, "These fences and obstacles won't stop us from reaching our destinations. You have to know what we fled from, and remember that we crossed mountains to get this far." She wasn't speaking figuratively about having crossed mountains on her journey, but literally. She shrugged again, picked up her bags, and continued her journey before I even had a chance to ask her name.
So what can Europe do in the face of this new reality? First of all, it is time to recognize that the current system, based on the Dublin regulations requiring asylum seekers to stay in the first EU country they enter, is broken. The Dublin regulations place a disproportionate burden on countries at EU external borders for asylum seekers arriving by land and sea, and create significant hardships for asylum seekers sent back to their first point of entry by other European governments unwilling to take responsibility for them.The Dublin regulations are increasingly dead in reality, with EU member states like Greece, Hungary, Croatia and Slovenia making either unable or unwilling to take responsibility for examining the asylum claims of newly arrived asylum seekers, and Germany stating that it will take responsibility for Syrians who reach Germany even if they have been finger-printed and registered elsewhere.  It is time to ditch the Dublin regulations, and to come up with a reasonable way to ensure that all EU countries do their fair share to look after asylum seekers, and to meet their needs.Europe is still far off from reaching a consensus on how to achieve a fair sharing of responsibility, although the decision to increase to 160,000 the number of asylum seekers to be relocated from Italy and Greece to other EU member states is an important step in the right direction. While Germany has faced reality and anticipates having 800,000 asylum applications by the end of this year, the EU decision deals involves a much smaller number—less than the number currently arriving on average per month. And EU leaders rushed to endorse a raft of measures to reinforce border controls, defect responsibility to non-EU countries, and expedite returns. The new reality is already at Europe's borders, and it is high time that Europe comes up with a realistic plan to cope with the increased influx of asylum seekers.Of course, the conflicts in Syria, Iraq, and Afghanistan, and the refugee flows they are generating, cannot be the responsibility of Europe alone. This is a global crisis, requiring a global response. The United States, Canada, Australia, and the Arab Gulf States too need to assist, including by taking in refugees fleeing these brutal conflicts, and should show greater solidarity with those states struggling to cope with large refugee populations. The profound failure of the wealthy Arab Gulf States to take in and look after a fair share of Syrian and Iraqi refugees is most striking indeed, given that the refugees share a language and culture, and would be able to quickly have their qualifications recognized and become productive members of these societies.Instead of building more razor-wire fences and creating more obstacles in the path of asylum seekers, Europe should do more to expand safe and legal ways for people to reach a place of safety. That doesn't mean that Europe must throw open the doors to anyone seeking a better life and economic opportunities, but Europe does need to ensure that those fleeing war and repression have the opportunity to claim asylum without putting their lives at risk, and facing humiliation in the process.Many of those who have fled Syria, Iraq, and Afghanistan have lost relatives and most of their possessions to years of brutality and horror. The vast majority have sold everything they own, and have borrowed heavily, to make this desperate journey of hope. One of the last things they have left is their pride and dignity, and the brutal journey they face threatens to rob even that.Ali Antar, a Syrian Kurd from Qamishli, was sleeping on the pavement at Keleti station in Budapest with his three children when I met him a few weeks ago. He told me that the humiliation he faced was the worst part of his journey, and that he often felt that it would have been better to stay in Syria: "In Syria, there is an explosion, and you only die once. Here, I feel I die a thousand deaths of humiliation in front of my children every day."It is deeply humiliating to be left sleeping on the pavements of European streets, to have to wear the same stinking clothes day after day, and to be reduced to begging for food. Yet this is exactly what is happening to thousands every day, many of them families with young children, trapped in a vortex of confusion and indecision, with constantly changing border policies. While we wait for Europe's leaders to come up with concrete plans to address their right to seek asylum and security, the least we can do is to receive them with the dignity they deserve, and the humanitarian assistance they need.